Fingerprinting &
Background Checks
Fingerprint and Digital Fingerprinting
provider in Ottawa & Gatineau, Canada.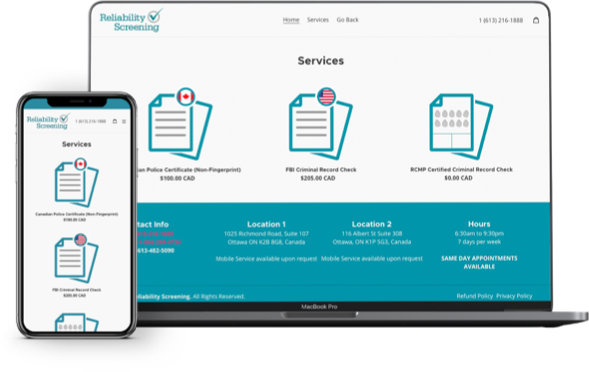 Make sure you're prepared
Regardless of the specific screening service that is being requested, the applicant must provide two pieces of
government-issued identification, such as a driver's licence, passport, or birth certificate.
We are accredited by the Canadian Criminal Real Time Identification Services (CCRTIS) branch of the Royal
Canadian Mounted Police (RCMP) to provide fingerprint-based Criminal History Checks.
Reliability Screening offers fingerprinting for
Certified Criminal Record Checks. This can
take place at either of our two offices, or
elsewhere with our mobile fingerprinting
service.
Document Authentication & Legalization
RSSI offers timely, yet thorough,
authentication and legalization services for criminal record check certificates and related documents, such as degrees, birth certificates, and marriage certificates.
Bringing on new staff involves various
challenges. We give you peace of mind by
screening personnel and contractors for a
whole host of security and confidentiality
factors.
Record checks include RCMP Certified
Criminal Record Checks, as well as Canadian Police Information Centre Checks.
Criminal Background Check
Whether you require a background check based on fingerprints, or simply based on name and date of birth, RSSI can help.
We work closely with the RCMP along with other
governmental and private sector organizations.
Our network, experience, and expertise make us
the right choice for screening.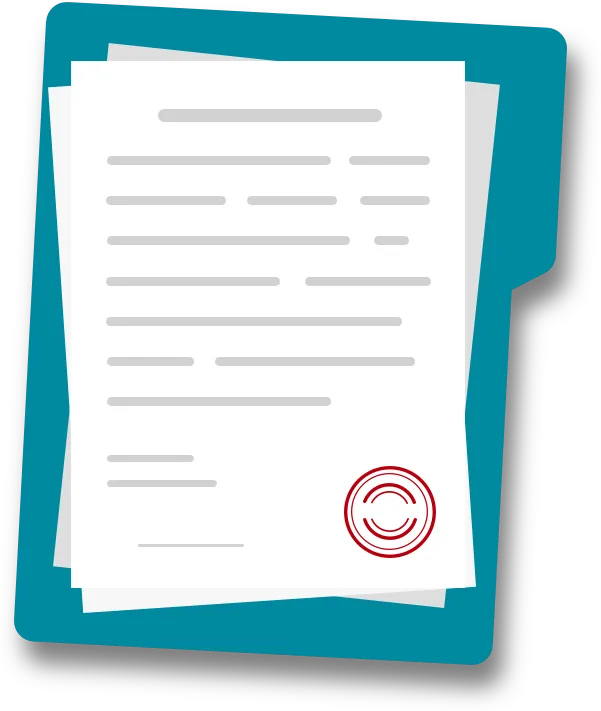 The Easiest Way To Find What You Need!
Place an order for one of Reliability Screening's most requested services. Whether you're a
returning customer or want to place your first order, you can do it here.
I needed a Canadian Criminal Check.
With the help of Reliability
Screening, it was easy! They
answered all my questions right
away and explained everything
perfectly. They are very patient and
helpful. Thank you so much!
- Karen MacArthur
They showed a perfect customer
service at a distance! Their staff
answered several questions by
email/company contact form in
minutes or a few hours later, or in
less than 24 hours at most, helping
me throughout the whole process.
- Marilla Assiz
From start to finish, I was kept
informed about my case, and I
found email ... communication to be
prompt, friendly and very clear. I
don't usually write reviews, but
want to help reassure anyone out there in the same position.
- Phoebe Moffat
Before choosing which company to go with, Reliability's reviews stood out and went with it. No regrets. Very responsive and got it processed as quickly as possible given the pandemic. Thank you so much!
- Meera Youn
I ordered a police name check from overseas. I obtained my electronic copy of the police certificate within a day and the original certificate was sent to my home in Canada. Thank you for your swift action and great service! Highly recommend Reliability Screening Solutions to everyone.
- Jenny Fanny
I ordered the document from overseas. They have perfect service!! They told me how to apply and which documents I need to provide. That was easier and clearer for me. I think Reliability Screening is your best choice! Really appreciate!
- WeiChih Chou
Terrific and professional service! Handled my request for a international criminal record check incredibly timely and efficient. Highly recommend to any Canadian residing abroad whose employer requires a Canadian criminal record check.
- Dwayne Thompson
Reliability Screening Solutions Inc. is a Trusted Industry Leader

Reliability Screening Solutions provides a range of screening services designed to assist employers and other agencies who need to examine the background of individuals. Our clients include federal government agencies, volunteer organizations, corporations, lawyers and consultants who specialize in assisting Immigration and Pardons applicants.
CCRTIS Accredited & Certified

CCRTIS accreditation is a process whereby the business and the individuals in that business who handle sensitive or private information are screened to ensure the safety of the public. These measures are extremely thorough, and signal to the public that they can trust a provider. In addition to the organization, its directors, officers and controlling shareholders are reviewed in detail.
Frequently Asked Questions
Learn more about who we are and how we can help you, or your business with our screening services.
How does this process work?

We welcome applications from all over the world! The process begins with placing an order using the buttons above, or by visiting shop.reliabilityscreening.ca. Once you've arrived at our store, you can select the service that matches your requirement. If you aren't exactly sure of what you need, do not worry! We can make changes or edits to orders as necessary, and are always happy to address your questions and concerns.

Once your order is placed, you will receive a confirmation email in addition to an application link and any paperwork you must complete. Once you've uploaded your information and we receive your fingerprints, we will process your application right away. Should you place an order that includes document authentication and legalization, that process will begin once we receive the results from the RCMP and any additional documents we may be handling on your behalf. Once all the work is complete, we return the documents via the shipping method selected for your order. We welcome questions at any point in the process, but updates will be issued often and when available. Please see our "Place International Order" button to begin!
Can I come in to an office?

Yes! We offer in-office appointments in the Ottawa area. Applicants are able to use the links above to select the service they require. Once a selection is made, applicants are able to upload the necessary information and ID before being redirected to our calendar to choose a time that fits their schedule. All bookings made online will receive a discounted rate.

Walk-In appointments are available during our business hours.
What if I have a business inquiry?

We work with, support, and empower businesses all over the world. Whether you're here in Ottawa, somewhere in Canada, or across the globe, we can find a way to work together to help those in need. No matter what you face, or which plans you have, please contact us because we would love the opportunity to serve you.

Note: Our business strategists are available to help those looking to purchase Digital Fingerprinting Systems as well. Should you have any questions on this topic, please contact us.
Employers and agencies entrusted with sensitive and valuable assets know that it is their
responsibility to protect their trusted employees and the interest of clients and stakeholders.