Record Check from South Africa
Reliability Can Facilitate Your Canadian Fingerprint-Based Record Check.
Fingerprinting for Canadian Background Checks for Individuals Living In South Africa
If you live in South Africa, there's a chance you will need to have your fingerprints processed by the RCMP for a criminal record check. There are many reasons why you might need to get such a check performed – perhaps you are applying for a change of immigration status, are applying for a work visa, are planning on studying abroad, or require it to start a new job. If you are a Canadian who lives in South Africa, or are South African or any other nationality who has lived in or spent time in Canada, you will need No matter the reason you might need an RCMP certified Criminal Record Check. 
The RCMP, or Royal Mounted Canadian Police, are Canada's national police service. The RCMP are based in Ottawa – just like Reliability Screening. These fingerprint-based criminal record checks are required for a wide variety of administrative and immigration purposes. We are experienced in helping people process fingerprint based criminal record checks and more. We help simplify the process for you so you can save yourself the hassle and stress of going through the process alone. Thousands of people worldwide have used Reliability Screening with excellent results. Reach out to us today!
Reliable Canadian Partner for Fingerprint-based services
Unsure Which Criminal Record Check to Get?
Check Out Our
Infographic!
Fingerprinting Documentation
You will have to show personal ID to the South African Police Service to receive your fingerprints. Make sure your ID info is written on the fingerprint card.
You might find that some police stations process fingerprints differently than others. The most important thing is that your fingerprints are inked and stamped, or signed.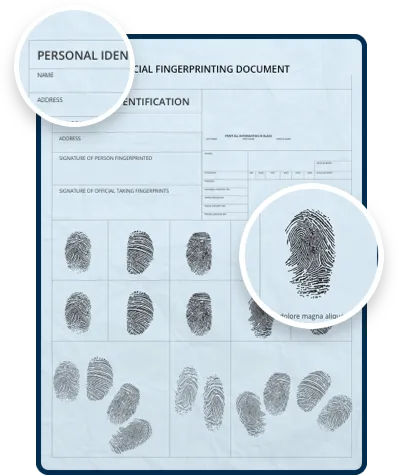 To get your fingerprinting services in South Africa, check with your local South African Police Service station. Make sure the card is stamped or signed before you leave!
If you live in South Africa and need to get your fingerprints taken for a Canadian criminal record check, Reliability Screening can help facilitate the process. From Cape Town to Durban, Johannesburg to Soweto, or anywhere else throughout the rainbow nation, Reliability Screening can help you.
Applying for the Canadian RCMP Certified Criminal record Check may seem simple on the surface, but if the process is not followed strictly your application can be denied. We ensure everything runs smoothly for your fingerprint-based criminal record check.
Frequently Asked Questions
Reliability Screening Solutions Inc. (RSSI) is accredited by the RCMP to submit electronic fingerprints to CCRTIS in support of criminal record checks. CCRTIS has partnered with Public Works and Government Services Canada (PWGSC), Canadian Industrial Security Directorate, to develop a new process for accrediting private companies to take fingerprints for non-criminal purposes. RSSI is one of the first agencies in Canada to successfully complete this new accreditation process.
Reliability Screening is dedicated to making the fingerprinting process as smooth and easy as possible, that's why you don't have to submit your fingerprints in person. Once you have been fingerprinted, simply send us your fingerprints from wherever you are – its that easy!
Reliability Screening is dedicated to protecting your documents and personal information. That means we do everything we can to ensure that your documents and information remain secure – every step of the way .
I needed a Canadian Criminal Check.
With the help of Reliability
Screening, it was easy! They
answered all my questions right
away and explained everything
perfectly. They are very patient and
helpful. Thank you so much!
- Karen MacArthur
They showed a perfect customer
service at a distance! Their staff
answered several questions by
email/company contact form in
minutes or a few hours later, or in
less than 24 hours at most, helping
me throughout the whole process.
- Marilla Assiz
From start to finish, I was kept
informed about my case, and I
found email ... communication to be
prompt, friendly and very clear. I
don't usually write reviews, but
want to help reassure anyone out there in the same position.
- Phoebe Moffat
Employers and agencies entrusted with sensitive and valuable assets know that it is their
responsibility to protect their trusted employees and the interest of clients and stakeholders.