Record Check from Thailand
Reliability Can Facilitate Your Canadian Fingerprint-Based Record Check.
Helping People Living in Thailand Get An RCMP Certified Criminal Record Check
Are you a Canadian or Thai citizen living in Thailand? Or maybe you are a national of another country who has lived in Canada? If you are looking to study or teach in Thailand, apply for work, are seeking a change of residence, or are looking to get a travel visa, odds are you will need to get a Canadian Criminal Records check. A Canadian Criminal Records check is necessary to show that you have a clean record for the time that you spent in Canada. They are required for a large number of administrative procedures both in Canada and abroad.
The RCMP is Canada's national police service, and are tasked with maintaining criminal records databases. Getting your RCMP background check done might seem intimidating, but Reliability Screening is here to help you through the process. All you will need to do is get your fingerprints taken in Thailand and then we take care of the rest. Our expert team based in Ottawa, Canada have processed thousands of records checks throughout the years. We know the exact processes you must follow and how to ensure your record check goes off without a hitch.
Reliability Screening Provides Smooth Processing & Fast Turnaround
Unsure Which Criminal Record Check to Get?
Check Out Our
Infographic!
Fingerprinting Documentation
In Thailand, the police will check your ID. Please make sure all the details are correctly filled out on your fingerprint form.
The most important thing when getting your fingerprints taken in Mexico is that they are done in ink and that they are signed & stamped. The process might vary from station to station.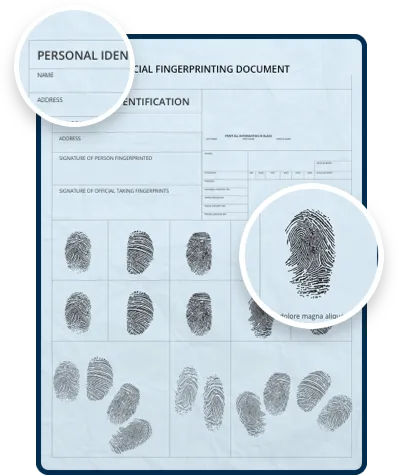 Fingerprinting can be done by the Special Branch Division of the Thai police at: Special Branch Division, Royal Thai Police Department Section 3, Sub-division 2, 1st Fl. Building 24
Henri Dunant Road, Patumwan, Bangkok 10330
Are you residing in Thailand but need a fingerprint-based Certified Criminal Record Check from Canada? No matter where you are in Thailand or in the world, from Thailand to Al Jahra to Salmiya, Reliability Screening is the right choice.
Start the process today and we'll let you know what steps you need to follow to get a result that's timely & accurate. We know what the Canadian government is looking for to get your fingerprints properly run for a successful records check.
Frequently Asked Questions
You do not! Reliability Screening makes it possible to get a Canadian criminal records check from almost anywhere in the world, including Thailand.
Yes you can. Reliability Screening is dedicated to making the RCMP criminal record check as smooth and easy as possible. That means once you have received your fingerprints in Mexico you just have to mail them to us and we take care of the rest.
Reliability Screening is dedicated to ensuring the highest security of your documents and data. We go above and beyond the minimum standards, ensuring your information is secure. This means implementing strict security protocols, protecting you and your data.
I needed a Canadian Criminal Check.
With the help of Reliability
Screening, it was easy! They
answered all my questions right
away and explained everything
perfectly. They are very patient and
helpful. Thank you so much!
- Karen MacArthur
They showed a perfect customer
service at a distance! Their staff
answered several questions by
email/company contact form in
minutes or a few hours later, or in
less than 24 hours at most, helping
me throughout the whole process.
- Marilla Assiz
From start to finish, I was kept
informed about my case, and I
found email ... communication to be
prompt, friendly and very clear. I
don't usually write reviews, but
want to help reassure anyone out there in the same position.
- Phoebe Moffat
Employers and agencies entrusted with sensitive and valuable assets know that it is their
responsibility to protect their trusted employees and the interest of clients and stakeholders.