Record Check from the UAE
Reliability Can Facilitate Your Canadian Fingerprint-Based Record Check.
Fingerprinting for Canadian Background Checks for Those Living in the UAE
If you're in the United Arab Emirates and need fingerprinting for a Canadian records check, Reliability Screening can help. Why would you need a Canadian record check in the UAE? If you've ever lived or spent substantial time in Canada and are applying for employment or travel/immigration status in the UAE or elsewhere, it's very likely that you've been asked to get fingerprinted and provide a criminal record check to show your clean record during your time in Canada. That means you need the RCMP Certified Criminal Record Check.
The RCMP is the national police service in Canada, and they maintain the databases for criminal record checks. While the process is rather straightforward, RCMP has certain standards for fingerprinting. Count on Ottawa-based Reliability Screening Solutions, Inc., to facilitate your Canadian fingerprint-based criminal record check. We are highly experienced and very familiar with RCMP procedures and criteria for fingerprints to get the record check, and we have fast turnaround times to get the results back to you in the UAE ASAP.
Reliability Screening Is Your Canadian Partner for Fingerprint-Based Processing
Unsure Which Criminal Record Check to Get?
Check Out Our
Infographic!
Fingerprinting Documentation
In the UAE, the police or Ministry of Interior will check your ID – please be sure these details are noted on your fingerprint form.
You may find that some locales run fingerprinting differently from others. The important thing is that the prints are inked and stamped or signed.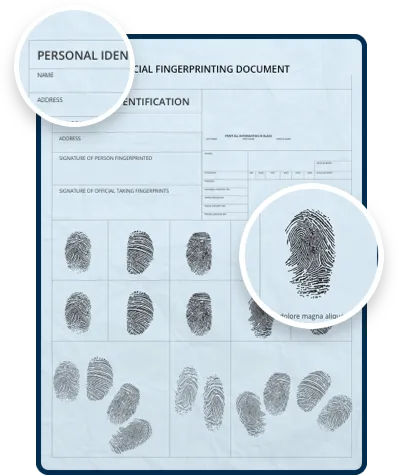 To obtain fingerprinting services in the UAE, check the website for the Ministry of Interior to locate an office near you; make sure the card is stamped or signed before leaving!
If you live in the UAE and need to get fingerprints taken for a Canadian criminal record check, let Reliability Screening help facilitate the process. From Dubai and Sharjah to Abu Dhabi and Fujairah, we'll advise what you need along the way and will be here to help.
With our experience as trusted partners in the Canadian fingerprinting and record check process, we'll be able to guide you to get fingerprints taken in the UAE that are acceptable for the RCMP to process your Canadian criminal record check.
Frequently Asked Questions
I needed a Canadian Criminal Check.
With the help of Reliability
Screening, it was easy! They
answered all my questions right
away and explained everything
perfectly. They are very patient and
helpful. Thank you so much!
- Karen MacArthur
They showed a perfect customer
service at a distance! Their staff
answered several questions by
email/company contact form in
minutes or a few hours later, or in
less than 24 hours at most, helping
me throughout the whole process.
- Marilla Assiz
From start to finish, I was kept
informed about my case, and I
found email ... communication to be
prompt, friendly and very clear. I
don't usually write reviews, but
want to help reassure anyone out there in the same position.
- Phoebe Moffat
Employers and agencies entrusted with sensitive and valuable assets know that it is their
responsibility to protect their trusted employees and the interest of clients and stakeholders.