Reliability Can Facilitate Your Canadian Fingerprint-Based Record Check.
Canadian Records Check & Fingerprinting for People in China
Seamless & Trustworthy Process for Quick Turnaround Times
Unsure Which Criminal Record Check to Get?
Check Out Our
Infographic!
Fingerprinting Documentation
ID information is to be written on the fingerprint card. You are required to show your personal ID to the authorities in China to get fingerprinted.
You can go to any fingerprinting agency or notary public office in China to have your fingerprints taken.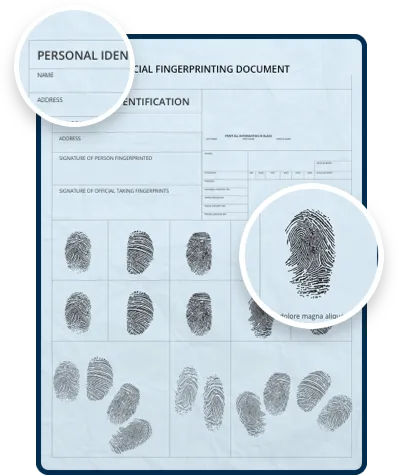 The fingerprinting process may vary between locations, but just ensure that before you leave, your card is stamped and signed.
Are you currently located in China and in need of a fingerprint-based Canadian criminal record check? If so, Reliability Screening can help. From Beijing to Shanghai, Chengdu to Shenzhen, we've helped many people successfully obtain their Canadian criminal record check.
We are a dependable and trusted partner with years of experience dealing with the RCMP in Ottawa where we are both located. Thousands of people have counted on our experience, expertise and friendly service to facilitate their RCMP Certified Criminal Record Check, in China & around the world.
Frequently Asked Questions
I needed a Canadian Criminal Check.
With the help of Reliability
Screening, it was easy! They
answered all my questions right
away and explained everything
perfectly. They are very patient and
helpful. Thank you so much!
- Karen MacArthur
They showed a perfect customer
service at a distance! Their staff
answered several questions by
email/company contact form in
minutes or a few hours later, or in
less than 24 hours at most, helping
me throughout the whole process.
- Marilla Assiz
From start to finish, I was kept
informed about my case, and I
found email ... communication to be
prompt, friendly and very clear. I
don't usually write reviews, but
want to help reassure anyone out there in the same position.
- Phoebe Moffat
Employers and agencies entrusted with sensitive and valuable assets know that it is their
responsibility to protect their trusted employees and the interest of clients and stakeholders.