Reliability Can Facilitate Your Canadian Fingerprint-Based Record Check.
Fingerprints in France for Canadian Criminal Record Checks
Fast, Affordable & Reliable Partner for Canadian Criminal Record Checks
Unsure Which Criminal Record Check to Get?
Check Out Our
Infographic!
Fingerprinting Documentation
You must show personal ID to French police or agency to receive fingerprints in the France; your ID info must be written on a fingerprint card.
When you go to a French police station or fingerprinting agency, they will take your fingerprints in ink and then stamp (or sign) the card.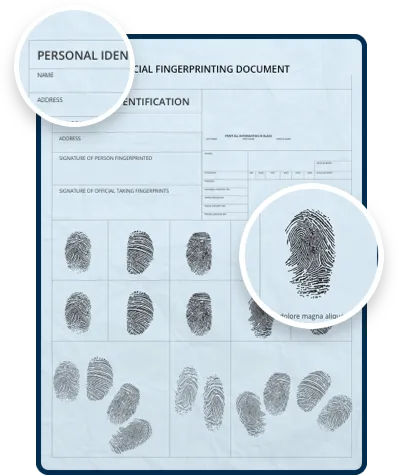 Although processes may vary slightly, the important thing is to have your fingerprints done in ink and then get the card stamped or signed.
Do you need a fingerprint-based Certified Criminal Record Check? No matter where you are in France, from Lyon to Lille, Paris to Provence, all across L'Hexagone, Reliability Screening can help.
Selecting us to process your Canadian fingerprint-based record check is a great choice. Our experienced, knowledgeable and amiable team are dedicated to providing you with the best service.
Frequently Asked Questions
For RCMP Certified Criminal Records Checks submitted from France to Canada, you will need to provide rolled (ink) fingerprints. Reliability Screening will receive your fingerprint card by mail in Ottawa and process this with the RCMP; then send the results back to you in France.
Yes. We value your security and privacy. At Reliability Screening in Ottawa we go above and beyond the minimum standards and have made it a focus to protect your data and identity and keep you safe and secure. We have earned repeat business and testimonials from our clientele, and we continually strive to maintain the highest standards.
Yes. Reliability Screening Solutions Inc. is pleased to offer fingerprint-based Canadian criminal records checks to clientele in France and across the globe.
We feature fast turnaround times and secure processing. After your order has been processed, we will let you know what we'll require from you in terms of information to complete the service and have it sent back to you in France in a thorough and timely manner.
I needed a Canadian Criminal Check.
With the help of Reliability
Screening, it was easy! They
answered all my questions right
away and explained everything
perfectly. They are very patient and
helpful. Thank you so much!
- Karen MacArthur
They showed a perfect customer
service at a distance! Their staff
answered several questions by
email/company contact form in
minutes or a few hours later, or in
less than 24 hours at most, helping
me throughout the whole process.
- Marilla Assiz
From start to finish, I was kept
informed about my case, and I
found email ... communication to be
prompt, friendly and very clear. I
don't usually write reviews, but
want to help reassure anyone out there in the same position.
- Phoebe Moffat
Employers and agencies entrusted with sensitive and valuable assets know that it is their
responsibility to protect their trusted employees and the interest of clients and stakeholders.