Trusted Partner for RCMP
Certified Canadian Record Checks
Reliability Can Facilitate Your Canadian Fingerprint-Based Record Check from Malaysia
Fingerprinting & Canadian Record Checks
for People Living in Malaysia
Whether you require a fingerprint-based background check because you are studying abroad, applying for a new job or updating your visa while living abroad, Reliability Screening has you covered. If you are a Canadian citizen, you will need to get an RCMP Certified Criminal Record Check. This type of check provides proof that you had a clean record during your entire time living in Canada.
The RCMP are the only ones who can issue a Certified Criminal Record Check, seeing as they are Canada's authority over our criminal database. You need to submit rolled fingerprints for your record check to be valid to receive it. One of the best services we offer here at Reliability Screening is the ability to perform your fingerprinting and submit your record check for you while you are still abroad. No need to return from Malaysia to perform your record check! We are a trusted partner for companies and individuals in Malaysia looking to request a record check. Simply get your fingerprints taken in Malaysia, submit them to us and we can submit them to the RCMP and deliver the results to you, no matter where you are.
Fingerprint-Based Checks Performed
By A Trusted Canadian Partner
Our company is an industry leader in helping companies and individuals who require fingerprint-based background checks from Canada. Reliability Screening has had success helping several thousand clients with their fingerprinting and record check services from Malaysia, and across the world.
When trusting us, you will enjoy a painless and efficient process for having your fingerprints processed and submitted, and receiving your Canadian Criminal Record Check. Leave it to us, we will handle all the paperwork and provide you with any guidance you may require along the way.
Unsure Which Criminal Record Check to Get?
Check Out Our
Infographic!
We are accredited by the Canadian Criminal Real Time Identification Services (CCRTIS) branch of the Royal
Canadian Mounted Police (RCMP) to provide fingerprint-based Criminal History Checks.

1. Complete Form Online
Use our convenient online ordering tool to order the correct Fingerprinting check, and receive a detailed list of the documents we will require from you.

2. Necessary Information
Once payment is complete, we'll require a few different forms emailed or mailed in order to complete your Fingerprint check with the RCMP database.

3. We Handle The Rest
We file your documents with the RCMP to ensure you receive your Fingerprint check results as quickly as possible. Wait times vary depending on the specifics of your check.
Fingerprinting Documentation
All official Malaysian documents are required to have the proper identification for them to be considered valid. Please ensure the card is stamped and signed.
The fingerprinting process may vary at the location you get them done. In order for the fingerprinting to be deemed legal and valid, they must be done in black ink.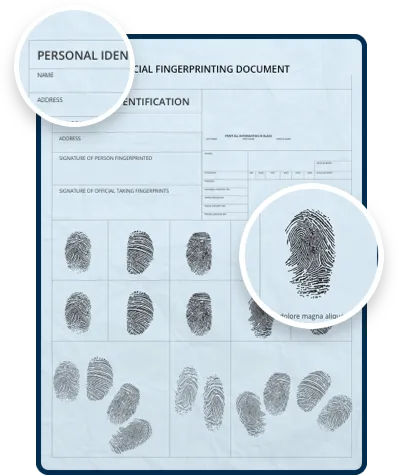 Your official fingerprinting document can be completed at any local police station in Malaysia. Alternatively, you can explore the option of booking an appointment at a Visa Application Centre (VAC) to have this service performed.
No matter where you are living across Malaysia, you can rely on Reliability Screening to handle all of your fingerprinting and record check services. We will help you from start to finish ensuring you are completely taken care of.
We provide the necessary guidance to ensure that the fingerprints you take in Malaysia will be recognized by Canadian authorities to get your record check processed.
Frequently Asked Questions
For RCMP Certified Criminal Records Checks submitted from Malaysia to Canada, you will need to provide rolled (ink) fingerprints. Reliability Screening will receive your fingerprint card by mail, in Ottawa, and process this with the RCMP; then send the results back to you in Malaysia efficiently.
Yes. Your safety and security are our number one priority. At Reliability Screening in Ottawa, we go above and beyond the minimum standards and have made it a primary commitment to keep your data and identity safe and secure. A significant portion of our clientele are repeat customers due to our industry leading discretion, and we continually strive to maintain the highest standards when processing fingerprint-based record checks from Malaysia, and from around the world.
Yes. Reliability Screening is pleased to offer fingerprint-based Canadian criminal records checks to clientele in Malaysia, and around the world. We feature fast turnaround times and secure processing. After your order has been processed, we will let you know what we'll require from you in terms of information to complete the service in a thorough and timely manner. Allow us to take the guesswork out of your record check acquisitions.
I needed a Canadian Criminal Check.
With the help of Reliability
Screening, it was easy! They
answered all my questions right
away and explained everything
perfectly. They are very patient and
helpful. Thank you so much!
- Karen MacArthur
They showed a perfect customer
service at a distance! Their staff
answered several questions by
email/company contact form in
minutes or a few hours later, or in
less than 24 hours at most, helping
me throughout the whole process.
- Marilla Assiz
From start to finish, I was kept
informed about my case, and I
found email ... communication to be
prompt, friendly and very clear. I
don't usually write reviews, but
want to help reassure anyone out there in the same position.
- Phoebe Moffat
Employers and agencies entrusted with sensitive and valuable assets know that it is their
responsibility to protect their trusted employees and the interest of clients and stakeholders.