Record Check from The New Zealand
Reliability Can Facilitate Your Canadian Fingerprint-Based Record Check.
You're in New Zealand But Used to Live in Canada & Need Fingerprints
Are you a Canadian living in New Zealand? Or a Kiwi (or other national) who has lived in Canada in the past? Have you been asked to get fingerprinted for an RCMP-certified Canadian criminal record check? If so, you're in good company. Criminal record checks are an increasingly common requirement for a variety of circumstances. Maybe you've applied for a new job. Perhaps you are looking to visit or live abroad? If so, you might very well need to establish a timeline without any criminal record.
If you've lived in Canada, that means an RCMP-certified criminal record check. And that involves getting fingerprinted in New Zealand, then submitting the fingerprint card to the RCMP in Canada for processing of your criminal record check. To ensure the smoothest, fastest and most accurate processing, why not partner with a company who's got plenty of experience and knowledge in facilitating RCMP fingerprinting & record checks.
Choose Reliability Screening for Smooth Processing & Turnaround
The Fingerprinting Process in New Zealand
Unsure Which Criminal Record Check to Get?
Check Out Our
Infographic!
Expert Support and Customer Service
Fingerprinting Documentation
In New Zealand, forms for fingerprints must have the details regarding your identification – otherwise it's not a valid document.
You may find that some police services run fingerprinting differently. The important thing is that the prints are inked and stamped or signed.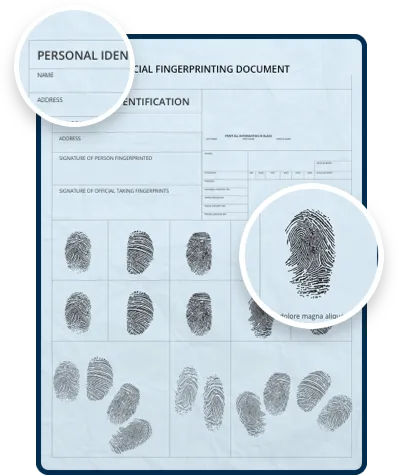 For fingerprinting in NZ, you'll
need to visit a police station; an
officer will take your fingerprints,
stamp and sign the card to make
it official.
Canadian Criminal Record Checks in New Zealand
If you need to submit fingerprints for the RCMP Certified Criminal Record Check and you're located in NZ, we can make it happen. North Island or South Island, from Wellington to Queenstown, Auckland to Dunedin, count on Reliability Screening for your fingerprint-based Canadian criminal record check. We'll let you know what you need and how to get it, helping you every step of the way.
We provide the necessary guidance to ensure that the fingerprints you take in New Zealand will be recognized by Canadian authorities to get your records check processed.
Frequently Asked Questions
I needed a Canadian Criminal Check.
With the help of Reliability
Screening, it was easy! They
answered all my questions right
away and explained everything
perfectly. They are very patient and
helpful. Thank you so much!
- Karen MacArthur
They showed a perfect customer
service at a distance! Their staff
answered several questions by
email/company contact form in
minutes or a few hours later, or in
less than 24 hours at most, helping
me throughout the whole process.
- Marilla Assiz
From start to finish, I was kept
informed about my case, and I
found email ... communication to be
prompt, friendly and very clear. I
don't usually write reviews, but
want to help reassure anyone out there in the same position.
- Phoebe Moffat
Employers and agencies entrusted with sensitive and valuable assets know that it is their
responsibility to protect their trusted employees and the interest of clients and stakeholders.