Record Check from Australia
Reliability Can Facilitate Your Canadian Fingerprint-Based Record Check.
You're in Australia But Used to Live in Canada
Getting a Canadian Criminal Record Check from Australia can be complicated, but it doesn't have to be. If you're located in Australia but lived or stayed in Canada for some time, you might be asked to get fingerprinted and complete a Canadian Criminal Record Check. Canadian Fingerprint Based Criminal Record Checks are used for a number of purposes – they are used for employment or volunteer purposes, immigration procedures, obtaining a travel visa and many other reasons.


Whether you're an Aussie or Canadian living in Australia, a prospective employer or other authority may have asked you to get fingerprints and submit them for an RCMP Certified Criminal Record Check. The RCMP are the federal police in Canada and are responsible for maintaining the Canadian criminal records database. Getting this check will show your employer or the country where you intend to visit or reside that, for the duration of your presence in Canada, you did not have a criminal record.
Fingerprint-Based Checks Performed By A Trusted Canadian Partner
Unsure Which Criminal Record Check to Get?
Check Out Our
Infographic!
Fingerprinting Documentation
Your fingerprinting document
must be completed at a local
police station & stamped or
signed by the official
overseeing the fingerprinting.
All fingerprints must be fully
inked and stamped at the police
station. Some police stations will
require different configurations.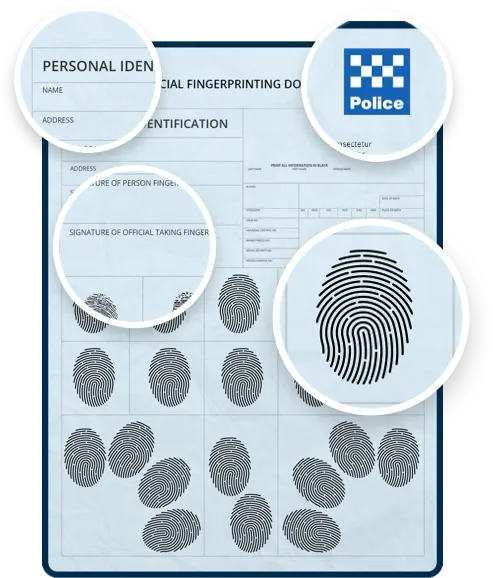 All official Australian fingerprint
documents must have the
appropriate identification
information in order to be valid.
If you need to submit fingerprints for the RCMP Certified Criminal Record Check and you're located in Australia, we can make it happen. Wherever you happen to be located, from Perth to Melbourne, Sydney to Brisbane, let us help with your fingerprint-based Canadian criminal records check. We'll let you know what you need and how to get it, here to assist you every step of the way.
We provide the necessary guidance to ensure that the fingerprints you take in Australia will be recognized by Canadian authorities to get your records check processed.
Frequently Asked Questions
For RCMP Certified Criminal Records Checks submitted from Australia to Canada, you will need to provide rolled (ink) fingerprints. Reliability Screening will receive your fingerprint card by mail in Ottawa and process this with the RCMP; then send the results back to you in Australia.
Yes. We value your security and privacy. Notaries public are appointed by the attorney general of Ontario and have taken an oath to adhere to a set of professional standards.

At Reliability Screening in Ottawa we go above and beyond the minimum standards and have made it a primary commitment to keep your data and identity safe and secure. We have earned repeat business and testimonials from our clientele, and we continually strive to maintain the highest standards.
Yes. Reliability Screening Solutions Inc. is pleased to offer fingerprint-based Canadian criminal records checks to clientele worldwide.

We feature fast turnaround times and secure processing. After your order has been processed, we will let you know what we'll require from you in terms of information to complete the service in a thorough and timely manner.
I needed a Canadian Criminal Check.
With the help of Reliability
Screening, it was easy! They
answered all my questions right
away and explained everything
perfectly. They are very patient and
helpful. Thank you so much!
- Karen MacArthur
They showed a perfect customer
service at a distance! Their staff
answered several questions by
email/company contact form in
minutes or a few hours later, or in
less than 24 hours at most, helping
me throughout the whole process.
- Marilla Assiz
From start to finish, I was kept
informed about my case, and I
found email ... communication to be
prompt, friendly and very clear. I
don't usually write reviews, but
want to help reassure anyone out there in the same position.
- Phoebe Moffat
Employers and agencies entrusted with sensitive and valuable assets know that it is their
responsibility to protect their trusted employees and the interest of clients and stakeholders.