Record Check from Switzerland
Reliability Can Facilitate Your Canadian Fingerprint-Based Record Check.
Certified Canadian Fingerprinting & Record Checks Sent to Switzerland
If you're a Canadian living in Switzerland or a Swiss national (or citizen of another country) who's spent time in Canada, and you need a fingerprint-based Canadian criminal record check, you may be wondering how to go about getting all this done. Maybe you're applying for a new job that requires this check. Or perhaps this is for application for immigration or visa. Whatever the case may be, if they're looking for a clean criminal record and you've lived in Canada, you'll have to submit a RCMP Certified Criminal Record Check.
The best way to get this Canadian criminal record check facilitated is by choosing a trusted Canadian partner who's helped thousands of people around the worldwide get through this process successfully. That's Reliability Screening. Based in Ottawa and highly experienced with the RCMP Certified Criminal Record Check, Reliability Screening knows what it takes to get through the RCMP's specific procedures to make sure all the I's are dotted and T's are crossed. Our prompt service and fast turnaround times make this process as smooth as possible for you.
Your Canadian Partner for Fingerprint-Based Criminal Record Checks
Reliability Screening has been performing fingerprinting and facilitating background checks and criminal record checks in Canada for many years. Our headquarters are in Ottawa, giving us proximity to the RCMP, Canadian Ministry of Foreign Affairs, and over 100 embassies, consulates and high commissions. This has enabled us to hone in our specialty to a highly-focused process like a well-oiled machine.
Unsure Which Criminal Record Check to Get?
Check Out Our
Infographic!
Fingerprinting Documentation
In Switzerland, you will show your identification to the police taking your fingerprints; ensure that they have entered your info correctly on all documents.
The fingerprinting process among Swiss police stations is fairly uniform, with fingerprint cards being inked then stamped or signed.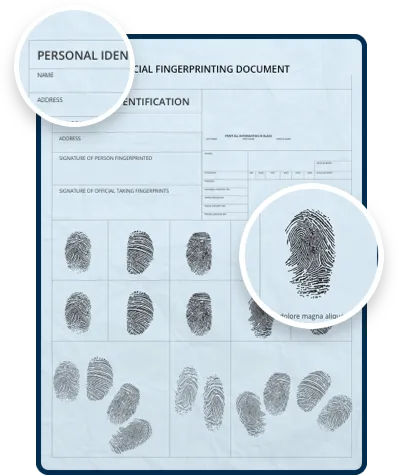 Police services in Geneva, Bern and Zurich are able to perform fingerprinting by appointment; check with police in other locales to see whether they also can.
For those who live in Switzerland and require a fingerprint-based RCMP certified Canadian criminal record check, hiring Reliability Screening to oversee the process is a solid and safe choice. From Lausanne to Lucerne, Basel to the base of the Swiss Alps, Swiss residents can rely on us to stay well informed throughout the process.
Applying for the Canadian RCMP Certified Criminal Record Check may seem simple enough, but if the process is not followed strictly, applications can be declined. Avoid delays by choosing a reliable Canadian partner to help process your Canadian criminal record check.
Frequently Asked Questions
For RCMP Certified Criminal Records Checks submitted from Switzerland to Canada, you will need to provide rolled (ink) fingerprints. Reliability Screening will receive your fingerprint card by mail in Ottawa and process this with the RCMP; then send the results back to you in Switzerland.
Yes. Your security & privacy are our top priority. Reliability Screening goes above and beyond the minimum standards with our commitment to keep your data and identity safe and secure. We have earned repeat business and testimonials from our clientele, and we continually strive to maintain the highest standards when processing fingerprint-based record checks from Switzerland and from around the world.
Yes. Reliability Screening is pleased to offer fingerprint-based Canadian criminal records checks to clientele in Switzerland and around the world.
We feature fast turnaround times and secure processing. After your order has been processed, we will let you know what we'll require from you in terms of information to complete the service in a thorough and timely manner.
I needed a Canadian Criminal Check.
With the help of Reliability
Screening, it was easy! They
answered all my questions right
away and explained everything
perfectly. They are very patient and
helpful. Thank you so much!
- Karen MacArthur
They showed a perfect customer
service at a distance! Their staff
answered several questions by
email/company contact form in
minutes or a few hours later, or in
less than 24 hours at most, helping
me throughout the whole process.
- Marilla Assiz
From start to finish, I was kept
informed about my case, and I
found email ... communication to be
prompt, friendly and very clear. I
don't usually write reviews, but
want to help reassure anyone out there in the same position.
- Phoebe Moffat
Employers and agencies entrusted with sensitive and valuable assets know that it is their
responsibility to protect their trusted employees and the interest of clients and stakeholders.